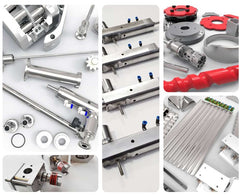 Discover top-notch C E King spares and packaging machinery parts for servicing and supporting King, DT Industries, Kalish, Swiftpack, KBW Packaging, and other leading packaging machines, including obsolete equipment. Our UK-manufactured changeparts and format parts ensure reliable upgrades, overhauls, and servicing for your packaging machinery, even for older models.
Reliable Servicing and Support:
We understand the importance of keeping your packaging machinery running smoothly. That's why we provide reliable servicing parts, overhauls, and upgrades for a variety of packaging machinery models, including those that may no longer be in production. Whether you require changeparts, format parts, or other essential components for your packaging machines, we have you covered.
UK-Manufactured Excellence:
At C.E.King Limited, we take pride in the quality of our parts. All our spares and parts are manufactured right here in the UK, ensuring superior craftsmanship, precision, and durability. We prioritise the satisfaction and success of our customers, delivering parts that meet the highest industry standards.
Optimise Performance and Efficiency:
By choosing our C E King spares and parts, you can optimise the performance and efficiency of your packaging machinery. Whether you need to replace worn-out components or upgrade your machines to meet evolving industry demands, our reliable parts will help you achieve seamless operations and enhance productivity.
Trust in our Expertise:
With years of experience in the industry, C.E.King Limited has become a trusted name in packaging machine servicing and support. Our knowledgeable team is ready to assist you with selecting the right parts and providing expert guidance to ensure your machines operate at their best.
Ensure the longevity and reliability of your packaging machines with our high-quality C E King spares and parts. Contact us today to discuss your specific needs and discover how our UK-manufactured excellence can benefit your business.