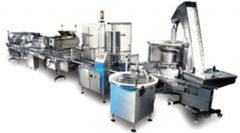 Kalish DT Industries, a once prominent global leader, was an innovative designer and manufacturer of packaging machinery and systems. As a division of DT Industries, Inc (DTI), it played a significant role in the design, manufacture, and supply of packaging machines and automation systems for a wide range of consumer, industrial, and pharmaceutical products. Although Kalish DT Industries is no longer operational, its impact on the packaging industry remains noteworthy.
Kalish DT Industries harnessed complementary technologies, expertise, and resources to develop cutting-edge packaging systems and equipment that catered to customer demands. With a strong focus on innovation and technology, the company strived to satisfy the diverse needs of the packaging market.
DT Industries, the parent company, offered engineering and manufacturing expertise to customers across industries such as components, electronics, aerospace, automotive, pharmaceuticals, consumer products, food and nutritional products, high technology, hardware, medical devices, plastics, cosmetics, agriculture, chemicals, and healthcare. With a global presence, DTI operated twenty-nine facilities and sales/service offices in various countries, including the United States, United Kingdom, Canada, Germany, Holland, Puerto Rico, and China. It employed approximately 3,000 associates and was publicly traded on NASDAQ NMS under the symbol DTII.
During its active years from 1999 to 2003, King, a member of the DT Industries Packaging Group based in Surrey, England, contributed over 60 years of experience in designing, developing, manufacturing, specifying, and supporting packaging machinery and equipment. King's innovative and creative solutions made a significant impact across markets such as healthcare, pharmaceuticals, personal care, toiletries, cosmetics, skincare, household, automotive products, and agrochemical industries. Their expertise and products were recognized in over 100 countries worldwide.
Today, C.E.King Limited continues the legacy of Kalish DT Industries by offering a wide variety of packaging machinery and spare parts. Their offerings include spares for Kalish Packaging Machinery, focusing on liquid filling and tablet counting operations within any packaging line. In addition to their own equipment, King has the capability to procure and integrate third-party equipment, including other high-speed Packaging Systems from DT Industries, providing customers with comprehensive line supply solutions.
To complement their product range, King offers various services such as validation support, training, commissioning, and maintenance. Their commitment to high quality and exceptional customer support has made them a trusted partner for customers seeking innovative packaging solutions. Whether it's a small bench-top packaging machine or a fully integrated million-pound packaging line, King ensures that every customer receives superior customer service and support.
At King, we continue to support our customers by providing spare parts and servicing manuals for a range of Kalish Packaging Machines, including:
Kalish 8440 Kotnr 120
Kalish Swiftpack Swiftcount
Kalish 5030 DL CAP-4 capper
Kalish 5145 Mini Bandit
Kalish 5130 Push through capper
Kalish accumulator Mk3
Kalish Filltronic
Kalish 5000 Kalishtronic
Kalish 7540 Turn Table
Kalish 7409 Kalisort
Kalish 7399 Kalisort
Kalish Swiftpack SPC2P Swiftcheck
Kalish Fillit and more.
Contact us today for all your spare parts and service manual needs related to Kalish Packaging Machines.